Download • Other Languages • Contact Us/Links • License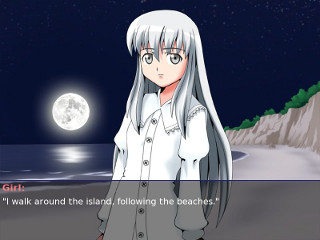 It's the summer before you go away to college, and you're spending it visiting with your aunt and uncle on a small island in the Atlantic ocean. One night, while out taking pictures of the full moon, you meet a girl walking down the beach...
Moonlight Walks is an english-language visual novel. It features 21 paths to 4 endings, and original digital artwork. It takes about 15 minutes to reach one of the longer endings, and perhaps half an hour to see them all.
Download
Version 2.0 of Moonlight Walks was released on January 25th, 2009. It includes all-new art by Mugenjohncel, and several bonus features.
There are four files that you can download, but you only need to download the one file that is appropriate for your platform.
Android. A version of Moonlight Walks for Android smartphones and tablets is available from the Android Market.
Other Languages
Русский. Прогулки под Луной были переведены на русский язык WinKiller Studio. Вы можете скачать новеллу здесь. (Moonlight Walks was translated into Russian by WinKiller Studio. You can download the novel here.)
Čeština. Procházky za měsíčního svitu byly přeloženy do češtiny denzilem. Můžou být staženy odsud. (Moonlight Walks has been translated into Czech by denzil. It can be downloaded here. Sorry, but it's still version 1.1.)
If you have comments, questions, or require support, the best way to contact us is by posting in the Moonlight Walks topic on the Lemma Soft Forums. If you need to contact us privately, please email pytom at bishoujo.us.
Moonlight Walks was made with the Ren'Py Visual Novel Engine, a free tool that lets you create your own visual novels. For more free visual novels, please visit the Ren'Ai Archives.
License
Copyright 2005-2009 PyTom/American Bishoujo
Permission is hereby granted, free of charge, to any person obtaining a copy of this software and associated documentation files (the "Software"), to deal in the Software without restriction, including without limitation the rights to use, copy, modify, merge, publish, distribute, sublicense, and/or sell copies of the Software, and to permit persons to whom the Software is furnished to do so, subject to the following conditions:
The above copyright notice and this permission notice shall be included in all copies or substantial portions of the Software.
This Software may only be distributed under the name "Moonlight Walks" if the visual and audio output it presents in response to user input is unchanged. If such output is changed, then the Software must be distributed under a different name.
THE SOFTWARE IS PROVIDED "AS IS", WITHOUT WARRANTY OF ANY KIND, EXPRESS OR IMPLIED, INCLUDING BUT NOT LIMITED TO THE WARRANTIES OF MERCHANTABILITY, FITNESS FOR A PARTICULAR PURPOSE AND NONINFRINGEMENT. IN NO EVENT SHALL THE AUTHORS OR COPYRIGHT HOLDERS BE LIABLE FOR ANY CLAIM, DAMAGES OR OTHER LIABILITY, WHETHER IN AN ACTION OF CONTRACT, TORT OR OTHERWISE, ARISING FROM, OUT OF OR IN CONNECTION WITH THE SOFTWARE OR THE USE OR OTHER DEALINGS IN THE SOFTWARE.
Ren'Py is distributed under its own license terms.